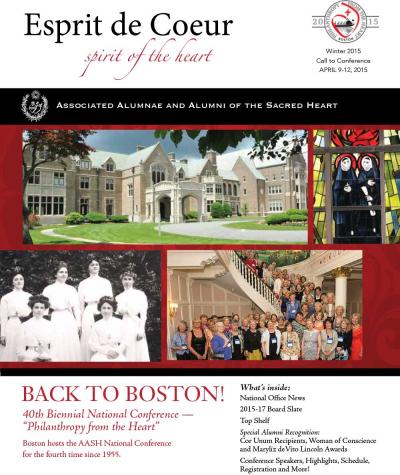 BACK TO BOSTON! 40th Biennial National Conference — "Philanthropy from the Heart"
Boston hosts the AASH National Conference for the fourth time since 1955.
In some ways it seems like just yesterday that we set sail from Omaha to Boston Harbor. It's been a circuitous route with two visits to St. Louis for Board meetings and a detour south for the AMASC World Congress. We shall reach Boston in early April and are very much looking forward to seeing many of you at the 40th AASH National Conference...
What's inside:
National Office News
2015-17 Board Slate
Top Shelf
Special Alumni Recognition:
Cor Unum Recipients, Woman of Conscience
and Maryliz deVito Lincoln Awards
Conference Speakers, Highlights, Schedule,
Registration and More!