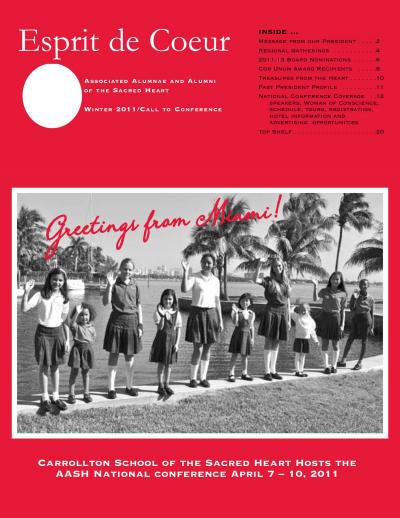 Carrollton School of the Sacred Heart Hosts the AASH National Conference April 7 – 10, 2011
I am writing to you on the verge of the new year, reflecting on all the Sacred Heart friends I have met these last few months. I've had the pleasure of attending the four Regional gatherings in Denver, Cleveland, Bryn Mawr, Penn., and Grand Coteau, La. Each had a unique flavor and reaffirmed what it means to be part of this Sacred Heart family. Even though Denver, the oldest association in the U.S., founded in 1928, and Cleveland, one of our newest associations, are not associated with a specific school, they are both vibrant groups. You'll read more about our Regionals on the following pages.

No matter where I went, I enjoyed engaging conversations, wonderful experiences, inspirational stories and enlightening speakers. Around the country, our alums are a living testament to all that is Sacred Heart, sharing all that they hold dearest – ties to an educational philosophy that encourages us to ask questions and probe deeper into any topic...
Inside
Message from our President . . . . .2
Regional Gatherings . . . . . . . . . . .4
2011-13 Board Nominations . . . . . .6
Cor Unum Award Recipients . . . . .8
Treasures from the Heart . . . . . . .10
Past President Profile . . . . . . . . .11
National Conference Coverage . .12
speakers, Woman of Conscience,
schedule, tours, registration,
hotel information and
advertising opportunities
Top Shelf . . . . . . . . . . . . . . . . . . . . .20