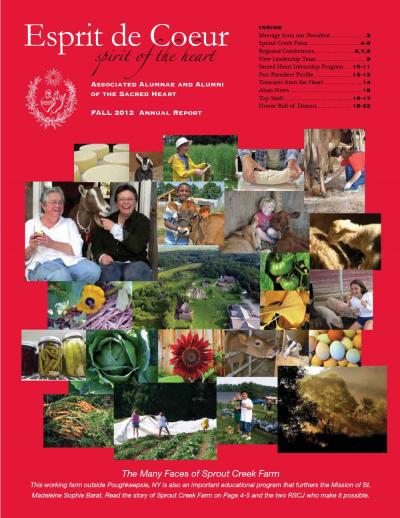 The Many Faces of Sprout Creek Farm: This working farm outside Poughkeepsie, NY is also an important educational program that furthers the Mission of St. Madeleine Sophie Barat. Read the story of Sprout Creek Farm on Page 4-5 and the two RSCJ who make it possible.
In a pastoral setting near Poughkeepsie, NY, there is a 200-acre working farm that produces more than delicious cheese and meat products: it also produces a new way to look at life for girls, boys and adults. Its programs are diverse, yet each one has a common element – participants contribute to the operation of the farm with hands-on activities – from milking cows to feeding chickens to "housekeeping" the animal areas.
The farm as an educational tool began in 1982 when three high school teachers at the Convent of the Sacred Heart in Greenwich, CT, a school for girls, felt that their students needed to find a broader horizon of experiences in order to expand their values and develop responsibility. The school was situated on an old farm, and some of the buildings remained. With a cadre of dedicated volunteers, the buildings were rebuilt and refurbished and gifts of animals completed the project. Just six months after the idea was put forward, the farm was up and running as an educational tool.
Its co-founders, Srs. Margo Morris, RSCJ (Bloomfield Hills '67) and Sue Rogers, RSCJ (Prince St., Rochester '60) – along with the school chaplain -- initiated programs to accomplish the farm's objectives. In 1987, they were approached by the estate of Elise Kinkead, a longtime Poughkeepsie resident, and Miss Kinkead's Woodford Farm in LaGrange was donated to the Society of the Sacred Heart to be operated as Sprout Creek Farm.
The farm was moved from its school location in 1990 to the majestic setting Miss Kinkead had so generously donated. Sprout Creek Farm was officially 'open for business'...