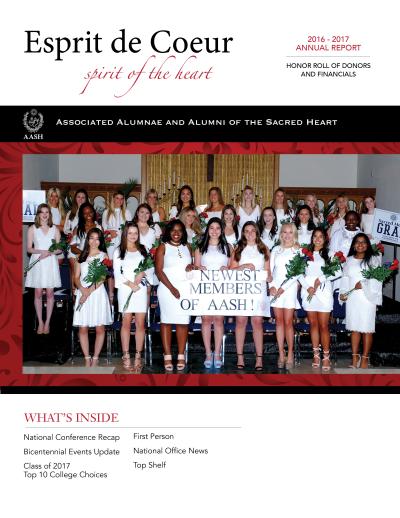 From the President
Dear Alums,
As we begin the Bicentennial Celebrations, I have been reflecting on the determination, love and commitment that propelled St. Philippine to travel to the frontier of the New World and open the first Sacred Heart School outside France. Surely, she was frightened, apprehensive and unsure of her ability to succeed, yet, she believed in her mission and persevered. While not embarking on a journey as brave as hers, I like to believe I am crossing my own frontier as your AASH President. I, along with your current AASH Board, am committed to reaching more alumni, continuing the work of those who served before us, and adapting our current structure and offerings to meet the needs our expanding and evolving alumni community.
An exciting upcoming change is the launch of our new website aash.org. We are thrilled to say that this website has been designed and created in partnership with the Stuart Center. It is always a win when you can work with another member of the Sacred Heart family. Moving to a new website and partnering with the Stuart Center will also result in a significant expense reduction. We hope you will find the new website more inviting, informative, and easier to navigate.
In this issue of Esprit you will also find our Annual Report. AASH has two primary sources of revenue: dues from our Network Schools and Member Associations, and generous donations from our alums and friends. We are heartened and humbled by your generous support and strive to be good stewards of your financial gifts.
Due to the ever growing costs of hotels and transportation, and declining attendance, a high-priority task for AASH is evaluating our current model for National Conferences. In order to receive favorable pricing for meeting rooms, food and beverage service and room accommodations, hotels require AASH to guarantee the number of rooms that will be used by conference attendees. But our use of those hotel rooms fell far below the guaranteed number in both Boston and San Francisco. So, AASH was forced to pay for empty hotel rooms. Similarly, we have paid for unused food and drink. As a result, registration fee income and conference underwriting revenues have not covered conference costs and required AASH to subsidize the National Conferences to an extent that is unsustainable. In fact, AASH has been billed more than $80,000 for uncovered conference expenses. We have reached a turning point in the way we hold National Conference and we must undertake an in-depth and responsible evaluation of the feasibility of the current model. Your AASH Board feels that we have a fiduciary responsibility to you, our members, to be good stewards of your donor dollars while protecting the long-term stability of our organization.
The Biennial Conference is a distinctly 20th century mechanism for assuring AASH's continuity and fidelity to its mission. If found affordable, it may also be the right 21st century mechanism - but technology, the aptitudes and preferences of newer Sacred Heart graduates and a variety of other circumstances may suggest change. A conversation has begun around all this, and we are asking for your input and suggestions. In the coming months, we will be sending out surveys to all our alums seeking your ideas on what sort of National Conference you would like to see. We really need your help. Please answer the survey or send us your thoughts, ideas and suggestion right now to NationalOffice@aash.org.
I believe that your AASH Board is operating on a somewhat parallel track to St. Philippine – we are unsure of what lies ahead, steadfast in our commitment to the mission of the Sacred Heart, and confident that the spirit and wisdom of St. Madeleine Sophie will guide our actions. These are exciting and challenging times and we are honored that you have chosen us to represent you.
I hope to see you all of you soon!
With heart,
Jodie