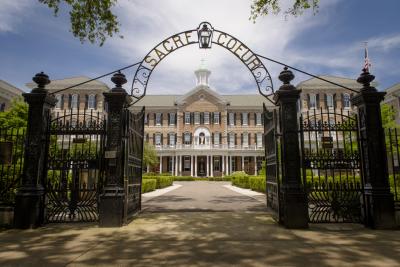 It's time for the 42nd AASH National Conference!
Register now by clicking HERE.
The National Conference will be April 26-27 at the Academy of the Sacred Heart (the Rosary) in New Orleans.
Rosary Campus 4521 St. Charles Avenue, New Orleans LA, 70115 Map & Directions
Links to tours & attractions HERE.
AASH Conference Itinerary
Friday, April 26
10:00am | AASH Board Meeting
1:00pm | Cor Unum Mass Rehearsal
1:30pm | Registration Opens
2:30pm | Conference Welcome: AASH Prsident Jodie Hannaman Thorne
3:00pm | Innovation in Sacred Heart Education: Always Moving Forward: Sr. Melanie Guste, RSCJ
3:15pm | Innovation in Sacred Heart Education: Always Moving Forward Round Robin (descriptions below)
4:30pm | Guided tours for conference attendees
5:30pm – 7:30pm |Shelagh O'Dwyer Cocktail Party around the Fountain
Saturday, April 27
9:00am | AASH Business Meeting
10:00am | Election of 2019-2021 AASH Board
10:30am | Keynote Speaker: Meredith Walker, Executive Director and Co-founder of Amy Poehler's Smart Girls Foundation
12:00pm | Cor Unum Luncheon
2:30pm| Steeped in History: New Orleans, The Mississippi, and Sacred Heart Education: Sally Reeves
3:30pm | Cor Unum Mass and Awards
5:00pm | Dismissal
Check out these fascinating  sessions planned by alums from ASH New Orleans!
Friday, April 26
Innovation in Education: Always Moving Forward
As Sacred Heart educators, we believe in programs demonstrating academic rigor, grounded in faith, that will educate the whole child. In a world where technology is growing at an ever-quickening pace and, we are increasingly a more connected, global community, Sacred Heart schools are uniquely positioned to leverage our network and deep roots to provide forward thinking, innovative education for our students. Please join us as we host rotating sessions highlighting ways in which the Rosary has incorporated curriculum that will be crucial for ensuring our students' success in this rapidly changing world. 
 Sessions include:
iLab | Hear how design thinking and use of technology like auto-CAD, laser cutters, and 3D printers are integrated across curriculum and divisions
Star Labs | See how a mobile planetarium is helping our students experience space and earth science, not just read about it
SynDaver | Our synthetic cadaver is teaching students starting in fourth grade about the human body and inspiring the next generation of doctors and scientists
Digital Media Lab | Our lab provides a unique opportunity for students to gain skills to pursue a journalism career through producing a weekly show and working with outside partnerships to give them real world experiences
Favrot Fine Arts Dance Studio | With increasing focus on STEM programming, we have continue to be committed to growing an arts program that incorporates many mediums of expression
Workout Room | Physical fitness is an important of educating the whole child and contributing to overall wellness
Global Education | Globalization makes it evermore important for our students to form global connections and experiences. Through exchange, international partnerships, and exposure through programs, global education is being integrated throughout all divisions.
Financial Literacy | Through a partnership with local coffee shop, PJ's, we developed an experiential financial literacy program where Upper School students run a coffee shop on our campus. 
H20 for Life | Middle School students integrate entrepreneurship and social awareness which impels to action into their curriculum through this financial literacy program. Students are responsible for developing a business plan, creating a product, and making the sale - all for a good cause. 
Saturday, April 27
"Steeped in History:  New Orleans, The Mississippi, and Sacred Heart Education"
An illustrated lecture on New World beginnings and the growth of Sacred Heart traditions in the Mississippi Valley.
Hotels in the area (there is no conference hotel):
Best Western Plus St. Charles Inn
Maison St. Charles Quality Inn & Suites
Hotels located in Downtown New Orleans on the Streetcar line:
Hilton New Orleans St. Charles Avenue