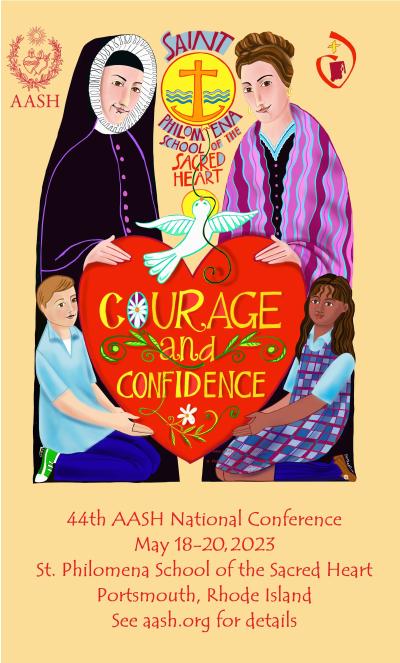 Thursday, May 18, 2023 to Saturday, May 20, 2023
Time to register for Conference!!
Join AASH for our 44th National Conference
May 18-20, 2023
Conference Registration   $325       
We will honor the future with great joy by celebrating St Philomena School of the Sacred Heart in Portsmouth, RI, the newest school in the Sacred Heart Network.  Registration includes all meetings for the 44th National Conference, Friday lunch, access to the Sacred Heart Boutique, Conference Program Book, Cor Unum Mass, Cor Unum Luncheon, all speakers, the Alice J. Burns Vin d'Honneur Celebration and general Conference activities. Our Conference meeting and Cor Unum activities will take place May 19 - 20.
*Please note, lodging is not included and there is no public transportation available to the meeting and event sites. Visit https://www.discovernewport.org/places-to-stay/for information about area hotel and lodging options or contact Muffie Jennings   Phone: 248-646-7800   muffie@jenningstravel.com
The following additional event is available at an additional charge.  Conference Registration is required to attend.    
Glen Manor Soirée    $175         Thursday, May 18  4:30 – 7:30 p.m.
We will honor treasured memories of the past by celebrating the Shelagh O'Dwyer Cocktail Party at The Glen Manor House, the former location of Elmhurst School of the Sacred Heart in Portsmouth. This event includes drinks and hors d'oeuvres in the historic manor house. There is limited capacity for this event. 
If you are an RSCJ, please contact Laurie Strickland, National Office Director at NationalOffice@aash.org.
For a preliminary Conference Schedule, click here;NationalConferenceSchedule
For Sponsorship and Underwriting opportunities, click here Sponsorship and Underwriting. 
For a list of the 2023 Conference Award Winners and the 2023-2025 Board Slate, click here Conference Awards and Board Slate
To place an ad in the Conference Program Book, click here Conference Program Ads Follow directions on the form for sending ad copy.
For information about the Tres Bien Dinner click hereTres Bien Dinner   For reservations, contact the National Office.  
For a list of area attractions, click here Portsmouth and Newport Area Atrractions.
For information about renting a table at the National Conference Boutique, click here Sacred Heart Boutique.
To make an online payment for Program Ads, Sponsorship, Underwriting or Tres Bien Dinner, go to aash.org/donate.  Please email NationalOffice@aash.org and list your purchases/payments.  
To register for Conference, go to  NationalConferenceRegistration