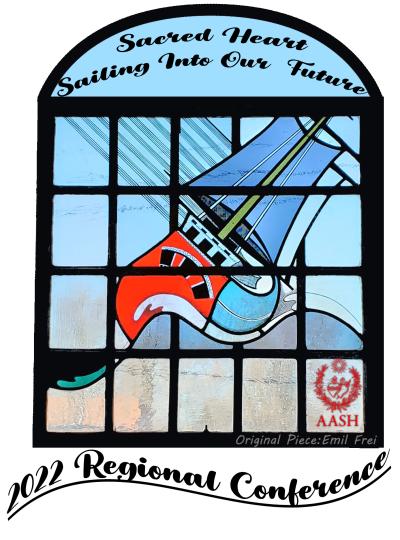 Wednesday, October 19, 2022 - 3:00pm
SAVE THE DATE - October 19, 2022          Sailing into Our Future
The AASH Regional Conference  will be held on October 19, 2022, at 3pm Eastern / 2pm Central / 1pm Mountain / 12pm Western. This will be a virtual event via Zoom in order to include as many alumni as possible in the meeting. All regions will be joining to share time together and learn what is happening with alumnae/i across the United States. We are busy working on the content and speakers for the meeting. Registration details will be available soon!
About the logo -  The logo for the 2022 Regional Meeting was created using the image from a stained glass window located on the campus of The Academy of the Sacred Heart in St. Charles.  The image, by stained glass artist Emil Frei, depicts the voyage of the Rebecca as it carries St. Philippine Duchesne and her companions to the New World.  The logo was designed by St. Charles alum, Tyler Strickland.