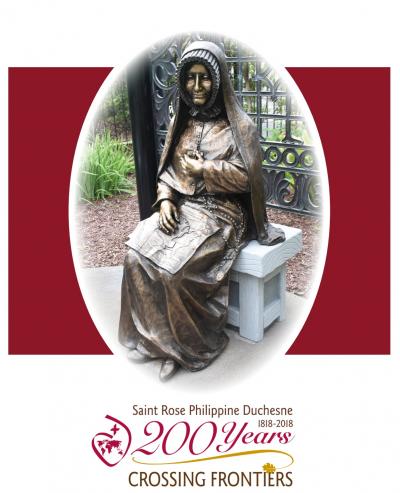 Bicentennial Closing Mass and Feast Day Celebration
of Saint Rose Philippine Duchesne
at the Cathedral Basilica of St. Louis in St. Louis, Missouri
The new Mass in honor of St. Philippine begins at 2:30 pm Central Standard Time on Sunday, Nov. 18. The Society of the Sacred Heart will live stream it. The live broadcast of the Mass may be found by clicking HERE.
The program for the liturgy is HERE so you may follow along.
Sunday, November 18, 2018, marks the close of the Sacred Heart Family's Bicentennial celebration in the United States and Canada. In 1818, St. Rose Philippine Duchesne and four companions arrived in St. Charles and within days opened a school in a log cabin. It was the first free school west of the Mississippi River and the beginning of the Society's mission of education in the Americas. This festive Eucharist includes the premiere celebration of the Mass in honor of St. Rose Philippine Duchesne, RSCJ, composed by Father Michael Joncas for the occasion.
A recording also will be available for 24 hours after the completion of the liturgy, on the same webpage.
To ensure a valid connection, there will be three test times. Click HERE to test your connection at the any of the times below. You need only test once, and testing is not required to view the liturgy on Sunday.
To test your connection, go to the live stream webpage to view a message on:
·       Wednesday, November 14 at 5 p.m. (CST)
·       Thursday, November 15 at 10 a.m. (CST)
·       Friday, November 16 at 10 a.m. (CST)
Each test will run for 30 minutes.